Seminars are a great way to learn new information and new skills. They can also be a lot of fun! In this blog post, we will discuss what a seminar is, the different types of seminars that are available, and the benefits of attending a seminar. We will also provide a few tips on how to get the most out of your next seminar experience.
What is a Seminar? Seminar definition
A seminar is an educational event in which a group of people gather together to learn more about a certain topic or subject. Seminars usually involve presentations, discussions, and interactive activities that help attendees get more knowledgeable. They typically last anywhere from one hour to several days, depending on the complexity of the material being presented.
Benefits of seminars: how such a group can be beneficial
#1 Gain New Knowledge
The main benefit of attending a seminar is that you can gain valuable soft skills to help you in your professional or personal life. Seminar course is often led by experts who have years of experience in their field, so the information they provide is up-to-date and useful. If each single meeting regularly delivers value, it can be quite beneficial to attend even a single seminar.
#2: Networking Opportunities
Another benefit of attending a seminar is that it can provide you with some great networking opportunities. Seminar gives you a chance to meet and connect with like-minded individuals and attendees who share your interests and passions. This audience could open up new job or career opportunities for you in the future.
#3: Learn from Experienced Professionals
Lastly, seminars give you a chance to learn from experienced professionals who have a wealth of knowledge and experience. These professionals can help you gain valuable insight into your chosen field, which can help you become more successful in the long run.
What are types of seminars
#1 Personal Development Seminars
With a similar group discussion and activities as any other seminar, personal development seminar focuses on topics like self-improvement, professional development, and relationships. They are often intended to help participants develop their strengths and build confidence in different aspects of their lives.
#2 Technology Seminar
A technology seminar aim to teach attendees the basics or advanced concepts of a certain technology and potential problems or advantages associated with it. They often include demos and hands-on activities in order to help participants become more familiar with the technology. Could be present at a particular university or other events.
#3 Seminar in Academic Institutions
A school district, college, university, or any other academic institution may hold such seminars in order to educate their students. This example of seminar can be about anything from science and math to art history and economics – whatever applies to a specific venue, university, or company.
#4 Exchanging Information Seminars
To exchange information, and learn new things, you can be holding discussions at the event. A seminar on a particular topic might bring together professionals with different expertise, to share their knowledge and skills – for example, about marketing or event marketing.
#5 Seminars for Advanced Students
No matter is the target audience is small groups, or large-scale event, these examples can be used to provide advanced students and other participants with additional knowledge and skills in a certain field. With guest speakers (e.g. small business owners), even a small group can learn a lot on particular subject or advanced study.
Best Practices for a Seminar
#1 Do your research
Each specific topic requires research to ensure that the content and materials presented are up-to-date and relevant. Do your homework before organizing or attending a seminar event, so you can make sure that the information being shared is accurate.
#2 Prepare engaging activities
To ensure that potential attendees stay engaged throughout the seminar, it's important to have fun and interactive activities. Try to include some open-ended questions, games, and more hands-on activities to keep the seminar interesting and engaging for everyone.
#3 Invite speakers
Inviting outside speakers can help a group with different perspectives on a certain topic or industry. This will give participants the opportunity to gain additional insights and examples from a range of professionals and experts.
#4 Set up a detailed budget
Your present ers, equipment, and location all need to be accounted for when creating a budget. Having an accurate budget will help you plan the seminar more effectively and make sure that everything runs smoothly in your company.
#5 Create word forms
Create word forms to make sure you have all of the necessary information before, during, and after the seminar. Forms like registration, group or venue feedback, and evaluation can help you keep track of attendees, analyze the success of the event, and plan for future seminars.
#6 Analyze your performance
The main difference between a successful seminar and an unsuccessful one is the ability to analyze your performance. Evaluating the entire process will help you identify what worked well, what didn't, and how you can make improvements in future event.
Set Up a Seminar Room with LiveWebinar
Want to expand your online course or workshops with new meeting events? Your company conferences lose that spark and subject that managed to attract a lof ot members and attendees? Add seminars to your seating arrangements.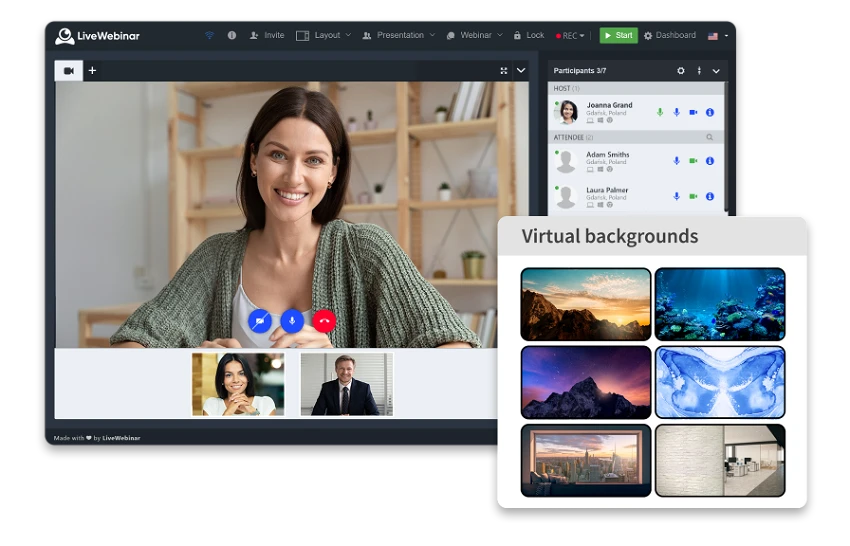 With LiveWebinar, you can create online seminars with high-quality video, audio and interactive content. Moreover, you can create an engaging atmosphere with polls, Q&A sessions, whiteboards and live streams.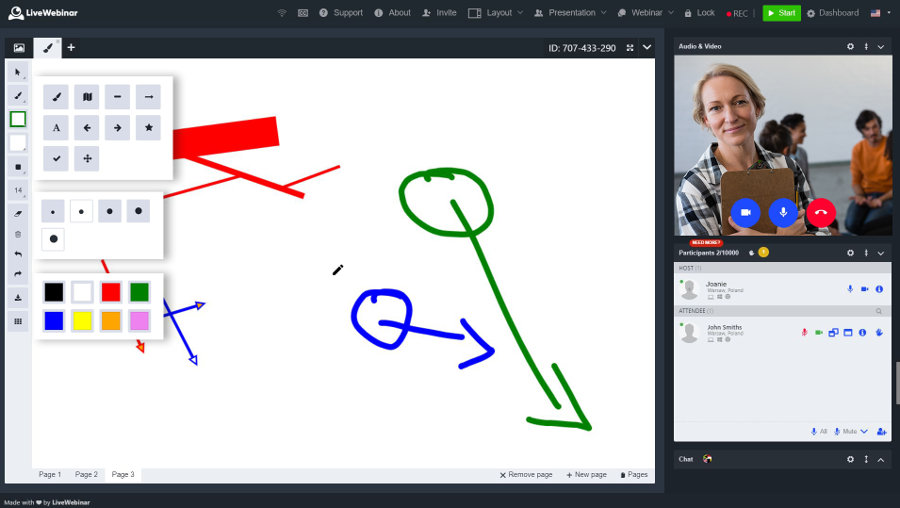 LiveWebinar also allows you to see the analytics of your seminar performance in real time! You can track demographics, view feedback from attendees and easily export data into other software. With this platform, you can make sure that your seminar conference is always gathering the right people to discuss relevant topics and learn something new.
Conclusion
New practices for your company seminar meeting will help you create a better atmosphere for learning and exchanging ideas. With the right research, activities, guest speakers, budgeting and evaluation tools, you can organize successful seminars that are enjoyable to everyone involved. And with enough time up your sleeves, you can get prepared in advance and create amazing workshops. LiveWebinar is here to help you to form such a group and deliver them a great event, meeting, discussion, or virtual venue conference with a seminar too. Good luck!